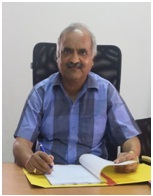 Dr. Anirudh Gupta
Prof. Mechanical Engineering
Contact No. – +91-9456222807
Email – dean@kecua.ac.in
The office of the Dean Academics takes care of all the academic matters of the institute – from admission of students to the awarding of degrees.
The Academic Cell decides on all academic issues both for Undergraduate and Postgraduate students and implements the decisions taken by the Senate. The major activities of the Academic Cell are course formulation and periodic review of course structure, based on student's feedback and the report of the 'Academic Programme Review Committee'. The Academic Cell is further responsible for —
Receiving, processing and maintaining all records related to the Academic programme – curricula, registration of students, leave (of students), examinations, grades and award of degrees and prizes.

Preparation and update of academic calendar which contains tentative dates for all academic events for next one academic year.

Disseminating information pertaining to all academic matters.

Issuing necessary memoranda/orders related to academic matters.

Acting as a platform of communication between students, instructors and the departments.

Preparing timetable for regular classes and examinations. The class timetable is made in consultation with the Departments.

Keeping track of semester-wise student intake, source of scholarships for Bachelor of Technology (B.Tech), Master of Technology (M.Tech) and PhD students, passed out students etc.